Last time, I talked about making some merchandise available for Prophecy of the Circle (and other things) and… this month I've gone and I've done it. After experimenting in different places and doing some homework, I've set up a shop on RedBubble with a few of my previous art pieces available to be printed either for your wall or on a variety of goodies. It's a small start, but I plan to add more to it as the weeks and months go on. 🙂 I'll make sure to mention when new designs appear.

On a related note, I also mentioned a few months ago that I'd hit upon some hard times, and that… really hasn't changed. With the way of the economy where I live, that's not looking to improve anytime soon, either.
I've been diligently squirrelling away what funds I can into savings, and I've been reducing my belongings so that I can pack up and try elsewhere. I'm actually aiming to make the big move to another province entirely within the next few months. My boyfriend, who you've probably seen around in the comments as TimmCosplay, is a resident of British Columbia and so are a whole bunch of my relatives. I'd have family and friends around there, and with the education and experience I have, it seems that would be a better place to test my skills and seek fulfilling employment. I know here isn't a good place for me.
In the meanwhile, I'm trying whatever I can to make starting over a bit faster and easier. I like to give back for any amount of money that's passed my way, so I'm not keen on just taking donations. I'd rather work for it. To that end, besides the RedBubble store, the Patreon is always there of course. Those who are already contributing have been absolute life-savers and have me intensely whispering "thank you" every month. As I pare down my art supplies, there may be some new goodies appearing on Storenvy.  It won't just be art up there in the near future. I have to acquire a few more bits and bobs, but I do have a drawer full of things like jewellery-making supplies, and I want to put together some Tarsin bond necklaces. I've made two before. They looked a little like this: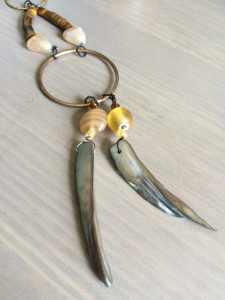 I need to get more cord to string them on, and I'm thinking I'll pick up some beads to make some Tieke, Harangin, and tekk themed necklaces, too.
I'm even considering taking commissions for the first time in my life. It could be a thing! If it is – and honestly, I'm thinking that it likely will be – I'll let you guys know when I have slots open.
And, as always, if anyone has suggestions for what else I could provide, then I am so completely open to hearing what you have to say. I love the feedback. Feedback is good!
At the very smallest, absolute least bit, of you've got an adblocker, if you could put this site on your whitelist, I would love you forever. You would suddenly feel this beam of warm thankfulness descend upon you, and that is the feeling of my gratitude.
In the meanwhile, thanks! You guys have always been the best to me.