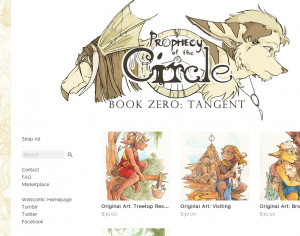 All right, there are only four little paintings up for now. Three are 8″ x 10″ and one's about a millimeter shy of 9″ x 12″ because I had a brain fart while prepping the paper and trimmed it to the wrong dimensions (9″ x 12″ is the dimensions of a comic page, in case you're curious), then failed to notice until it was already inked. Oh well! Bonus. That's the Calterra one.
The comic is always my priority number one, but when I have spare time in the future more things will appear in the shop. Keep an eye on my Twitter, Tumblr, and/or Facebook and you might get to see progress shots of some future offerings before I finish them.

I might experiment with some different media in the future, too. Not just watercolors. We'll see how things go!
For now, check it out. =D