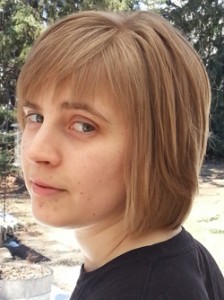 Meghan Taylor is a Canadian workaholic, crazy woman, artist and storyteller residing in St. Albert, Alberta. She has a Bachelor of Applied Communications in Professional Writing from Grant MacEwan University and views her art and her writing as pursuits that are forever intertwined and which she is equally passionate about.
She identifies as a complete geek, especially in regards to science fiction and fantasy, although she's never been as keen on straight sci fi or straight fantasy as she is with quirky little mixes of the two.
More of her artwork is available on her DeviantArt account as well as on Magpie's Gold, her Tumblr page.
She has a small  feline helper minion named Aleksi who warms her keyboard for her. He also makes sure she's always mentally stimulated by daily hiding all of her favorite pens and paintbrushes.